About us
Vision
Bring Japan Closer
We are the leading distributor of Japanese restaurant supplies in the Bay Area. Americans have become familiar with Japanese food, as it is now easily accessible in most communities. Although the number of Japanese restaurants has increased and selection of Japanese menus has expanded, most of the American market has just scratched the surface of the world of Japanese foods.
N.A.Sales has been working to educate and familiarize its customers with the wonderful foods of Japan since the company was established in 1970. We will continue to support our customers through our extensive knowledge base and product selection to bring Japan closer.
Greeting
Thank you for visiting our web site. Our company has served the Bay Area restaurant community as a source for Japanese foods, Sake, equipment, and restaurant management expertise for over 40 years. It is a unique existence as a Japanese food wholesaler.
As a professional in the restaurant business industry, our employees have the knowledge, products, and sources that other companies do not. We continually strive to evolve with our customers' changing needs. Although the restaurant industry has changed over the years, our intention towards our customers has remained unchanged. We make every effort to support our clients by working closely with them to anticipate and provide the products and services that they need most during these challenging times.
I hope that this web site will serve as a place to communicate and exchange information with our customers. We often take special requests from our customers. We will always make an effort to meet each restaurant's needs as a "handy" wholesaler. I am counting on your continued guidance and support.
N.A.Sales Co., Inc.
Tetsuo Mochizuki, President
History
N.A.Sales Co., Inc. was established in 1970 by the three Inaba Brothers. They predicted that the Japanese food industry would develop around the San Francisco Bay Area, and created N.A.Sales to serve the needs of the emerging Japanese restaurant community. The Inaba Brothers had already established North American Food Distributing Co., Inc. and North American Trading Co., Inc. (giftware) in Sacramento but their focus was mainly on selling foods, Sake, tableware, and kitchenware to retail stores. They saw that a prompt action needed to be taken to serve the growing restaurant industry in San Francisco, so they established a new company in the Bay Area that would specialize in Japanese restaurants.
In those days, there were only 80 Japanese restaurants in the Bay Area, but the number has grown to 800 today (as of May, 2010). It tells that the Japanese food culture has certainly permeated in the United States. Therefore, we are trying to put more effort into product development and the expansion of our operation in order to provide substantial services to our customers as a restaurant specialist wholesaler. Moreover, the Japanese food culture has changed dramatically, and our company has continually adjusted to the changes throughout the years.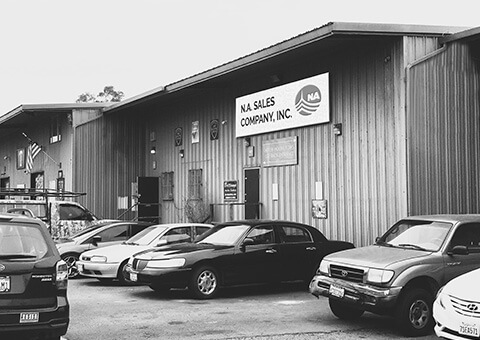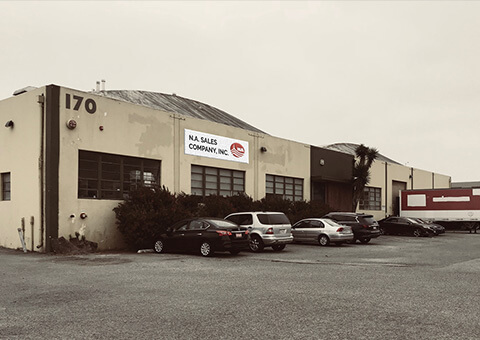 It has been N.A.Sales' goal to be at the forefront of the Japanese restaurant supply industry. In the beginning, our product line included just some basic food ingredients for basic applications such as unagi for sushi and tsukemono (pickles) for bento box. We brought in products that met the needs of the times, such as the "sushi boom" which started in the middle of 1970. As Japanese cuisine became more popular even among non-Japanese consumers, we expanded our product line to include such products as colorful soy bean papers targeted especially for those who are uncomfortable eating roasted seaweed. We became the official dealer of TSUKIJI MASAMOTO knives for professional chefs.
The "sake boom" started in 2000 and we were quick with the decision to strengthen our alcohol product lineup. Now we have over 100 kinds of premium sake from all over Japan to cater to any taste and preferences.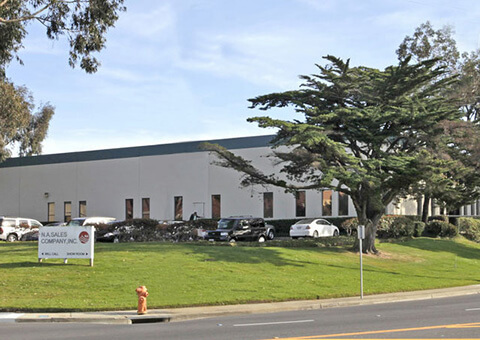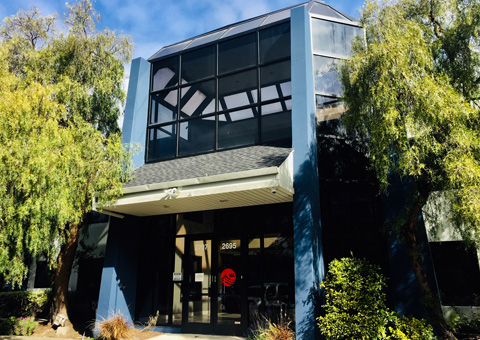 We have a vast array of traditional style Japanese earthen ware, and as we saw that Asian fusion style restaurants were gaining popularity, we added a huge line of white porcelain dishware. We introduced a restaurant POS SYSTEM to our line in 2001. The demand for POS SYSTEMS (Point of Sales) has increased as an indispensable tool for restaurant management strategy. Our system is designed for Japanese so that it is easy to use both in Japanese and English. In 2002, a wireless POS system was introduced in the United States for the first time. The efficiency of waitresses' work is raised, productivity is raised, and it is also useful to improve services.
As much as we value adapting to the changes in the world of Japanese cuisine in the Bay Area, we also strive to be an educator for customers who just entered the world of Japanese cuisine. Since 2003, we have held an annual restaurant show. Many manufacturers, brokers, and agents from Japan and the U.S. participate this event to provide our existing and potential customers a chance to learn more about the products we offer by food sampling, sake tasting and interesting demonstrations. We believe that it is truly a place of education, discovery and benefit.
Thus, our company always dedicates services from a restaurant manager's viewpoint and strives to provide the highest quality products and services as inexpensively as possible. Our goal is to develop a close cooperative relationship with clients in order to provide the best services. Please support us in our efforts with your continued guidance.